Turn up the heat this summer and take a ride on Revelstoke's #1 summer attraction. This exhilarating ride is 1.4 km of twists and turns across ski runs, between glades and through a tunnel while traveling up to 42km/hour.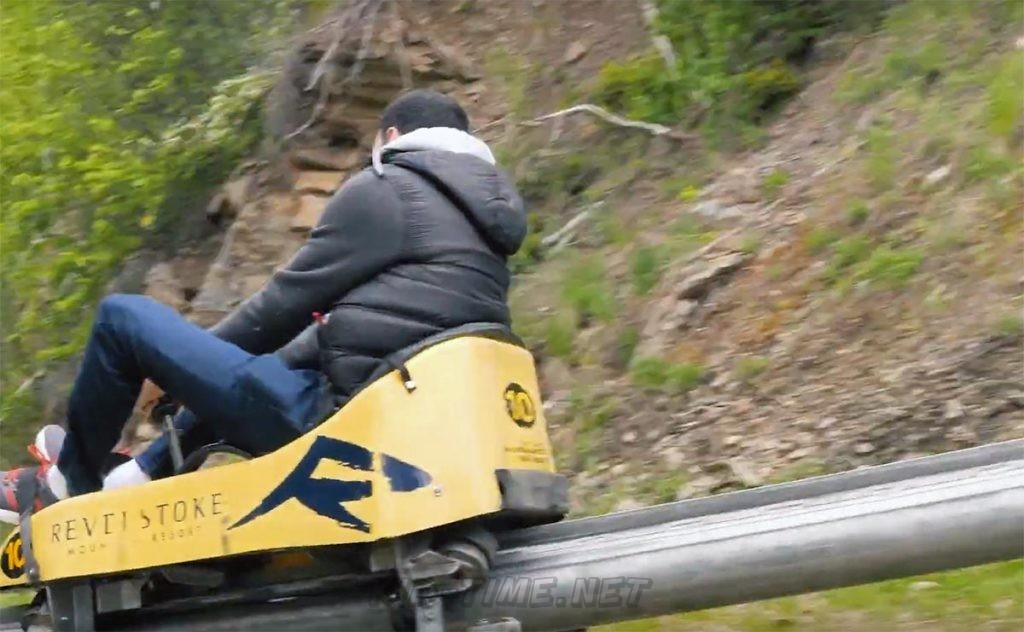 During our visit to Revelstoke we went to The Pipe Mountain Coaster.  There were 2 adults and 2 children (ages 4 and 5) that went on the coaster.  Everyone had a lot of fun, but this attraction has mixed reviews from the group.
The good things:
Super fun
Kids ages 3 and over can go on the coaster
Gondola ride is always a bonus
The not so good things:
Expensive.  $25 per adult and $10 per child.  So $35 for a 2 – 3 minute ride.
The 2 – 3 minute ride took us a total of 2.5 hours.
Okay so here is the how our experience with The Pipe Mountain Coaster went.  All people who rode the coaster had a great time!  It was fun, no doubt!  Problem, it's kinda expensive for how long the ride is.  I don't know exactly, but I think that it really only took less than 5 mins to get down the mountain on the coaster, and we were going slow because we had young kids with us.
Yes it was really fun, so definitely go if money is not your main concern.  Other problem, especially with young children was how long it took us.  Buying the tickets was not too long, maybe a person or two in front of us and we had our tickets paid for.  Then however; we were told to go the gondola and get a number to wait for our ride up the mountain which was approx 1.5 hours.
Finally it was out turn to get on the gondola and we make our way to the top of the mountain to only find out we are now to wait in line to get on the coaster.  We waited in line at the top of the mountain to get on the coaster for about another hour.  Good thing on a 30 degree day is that the kids got to bask in the cool water mist sprinklers while the adults kept the spot in line at the top of the mountain.
It was fun and I am glad that we did it, but with young children a quite expensive ride that took us 2.5 hours of waiting to get on… likely this will not our top pick for next time!
The Pipe Mountain Coaster Photos:
About The Pipe Mountain Coaster:
North America's most thrilling ski resort is turning up the heat this summer with The Pipe! From the top of the Gondola, the unique single-track coaster drops 279 vertical meters (915 feet) over 1.4 km (0.87 miles) of high-speed rail, twisting and turning across ski runs, between glades, and through a tunnel all the way to the finish line in the Resort Village. This family-friendly coaster allows you to control your own speed – letting you buckle up and choose between a relaxing cruise or a white-knuckle thrill ride! Adults can ride individually or with kids (under 10).
Back To: | Home Page | Fun Places | Pipe Mountain Coaster |